General Information
The devices we fabricate can have multiple layers, valves, electrodes; can be made with soft lithography techniques or hot embossing; can be used for a broad spectrum of applications, e.g. micropneumatic systems (micro-pumps and micro-valves); immunoassays; cell separation, sorting, counting and manipulation; droplet manipulation and digital microfluidics; optofluidics; drug screening and delivery; etc.
In our laboratories, we fabricate microfluidic platforms made of thermoplastic polymers such as COC/COP (Cyclic olefin Copolymer and polymer), PC (Polycarbonate), PMMA (Polymethilmetacricate) or silicones (PDMS - Polydimethylsiloxane) or resins. We also developed bonding processes combining PDMS-PDMS, Glass-PDMS, COC/COP-PDMS, COC/COP-COC/COP, Glass-PDMS-PDMS, PDMS-PDMS-PDMS, COC/COP-PDMS-COC/COP.

Academic and industry users have access to our microfluidics laboratory after receiving introductory equipment training and authorization by facility staff.
The facility also provides a variety of direct services: we can fabricate molds for soft lithography or hot embossing, and we can also fabricate devices in PDMS (single or multilayer bonded on glass) or COC/COP (hot embossed).
Polydimethylsiloxane (PDMS) is a transparent silicone commonly used for biological applications due to high optical clarity, inertness, non-toxicity and high hydrophobicity.
Cyclic Olefin Copolymer (COC) is an amorphous polymer with exceptional optical properties: high transparency, low auto-fluorescence and high ultraviolet transmission. COC are generally attacked by non-polar solvents, such as toluene but shows good chemical resistance and barrier to other solvents, such as alcohols or acetone, and is very resistant to attack from acids and bases.
Nickel molds/shims for micro and nano imprinting, hot embossing, PDMS casting or injection molding
One new service of our foundry is the fabrication of molds for PDMS with pre-designed features.
Our masters can be used for a variety of applications:
Stamps for micro and nano imprinting
Stamps for hot embossing of thermoplastic materials
Inserts for injection molding
Masters for casting epoxy or polymers
Printing plates used for UV casting of flexible materials
How does it work?
Choose your design, send us a CAD file for review and we will do the rest. With a rapid turnaround you will receive a Nickel mold ready to be used for a variety of applications.
Microfluidic devices, holographic chips, MEMS, these are just a few of the possible utilizations for our Nickel molds. Our stamps can be used and reused multiple times due to the high mechanical properties and wear resistance of Nickel. Stamps can also be cleaned without modifying the surface finishing.
The mold making process
Nickel molds for micro-and nano-imprinting (embossing) can be fabricated by electrochemical deposition of Nickel onto micro or nano-patterned substrates. Typical thickness of a mold is 450 micrometers.
Nano3 staff operates the Nickel electroforming system using Nickel sulfamate as electrolytic media, a rotating cathode (which can fit 4 inch, 100mm, or 6 inch, 150mm, samples) and a static anode (sulfur depolarized Nickel pellets).
Based on user custom designs, we fabricate master molds with photolithography (or electron beam writing), followed by metallization and electroforming. After the Nickel deposition process, the master is removed, the stamp cleaned and it is ready for the final application.
Upon request, Nano3 staff can also treat the stamp surface with an anti-adhesion layer.
Patterned substrates suitable for mold making
At Nano3 we can process 4" (or 100mm) and 6" (or 150mm) wafers made of:
Glass
Silicon
Polymer (also 3D printed features)
Pattern
The process is well established for dimensions from millimeters to a few hundred nanometers. Different patterns can be realized with UV photolithography or with electron beam lithography. All patterns must be coated with a uniform conductive layer (technically addressed as seed layer).
Aspect ratio
The aspect ratio of our molds is usually limited to 1:3 but because the attainable aspect ratio is highly dependent on geometries, dimension and pitch size, we suggest that you submit your design to us so we can give you customized information.
Mold dimension
Our Nickel molds are 93mm (from a 4" or 100mm master) or 142mm (from a 6" or 150mm master) in diameter with variable thickness (process and feature dependent).
The typical thickness of a mold is 450µm.
Anti-adhesion treatment
Anti-adhesion treatment is also available with FOTS ((Tridecafluoro-1,1,2,2-tetrahydrooctyl) trichlorosilane) applied using a vapor deposition tool.
Cost
Fabrication cost is strongly process dependent: please ask us for an estimate.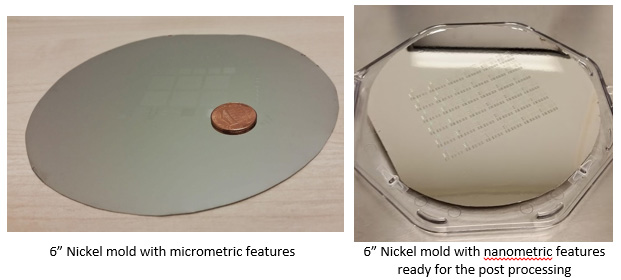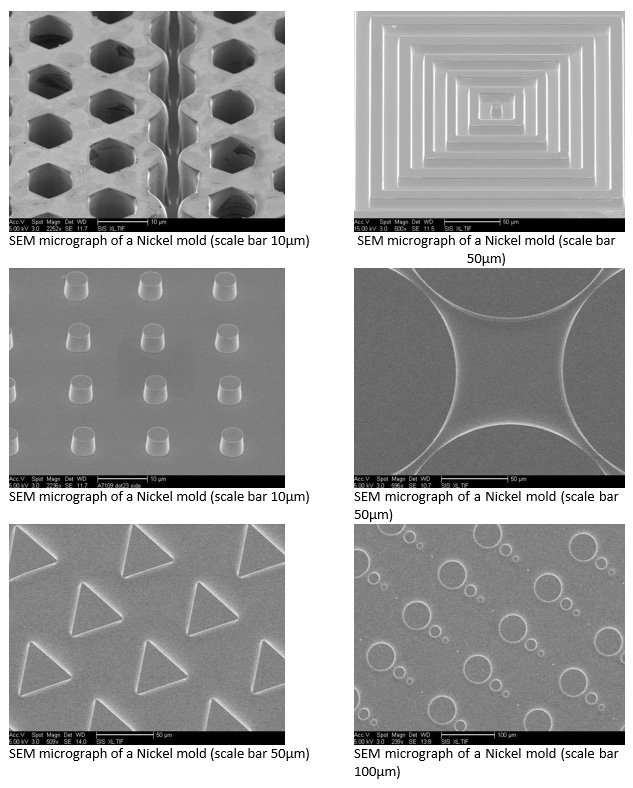 Equipment
The Microfluidic Medical Device Facility at Nano3 is equipped with:
PDMS Clean Space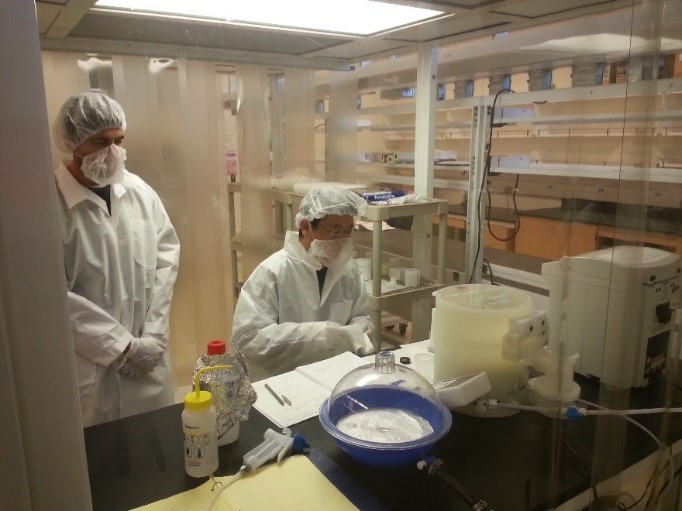 This is a clean (Class 1000 HEPA filtered) area designated primarily for PDMS processing. Available equipment includes a Thinky Mixer, Laurel Spin Coater, scale, vacuum desiccator, ozone plasma system and oven. Users may complete the entire PDMS molding process in this clean space using mold masters fabricated in the Nano3 cleanroom.
CARVER Hot embossing press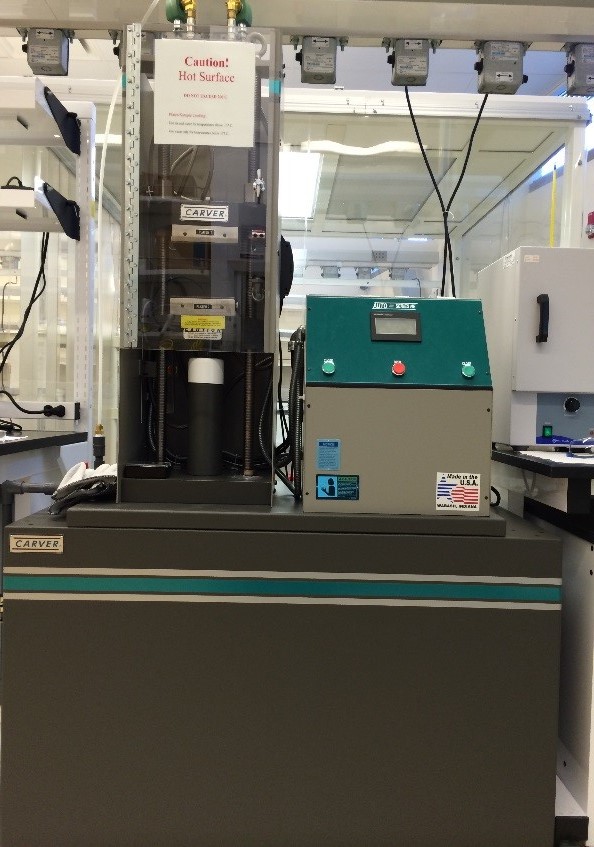 The Carver Hot Embossing system allows hot embossing of thermoplastic polymers. The top and bottom embossing plates can be heated at different temperatures, up to 200°C, and embossing pressure of up to 5tons (1000lbs minimum) can be applied. The equipment has been successfully tested with PC, PMMA, COC-COP, PTFE and PE.  It can be used with silicon, epoxy resin, glass, aluminum or nickel molds, depending on the desired feature size.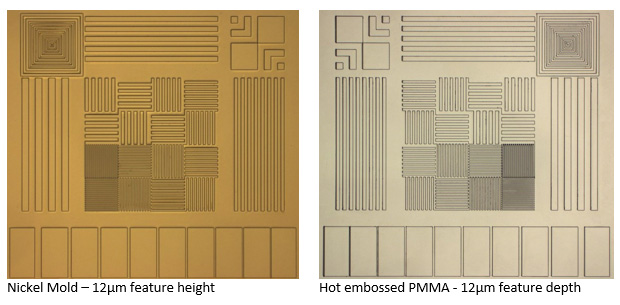 4-axis CNC micro-milling machine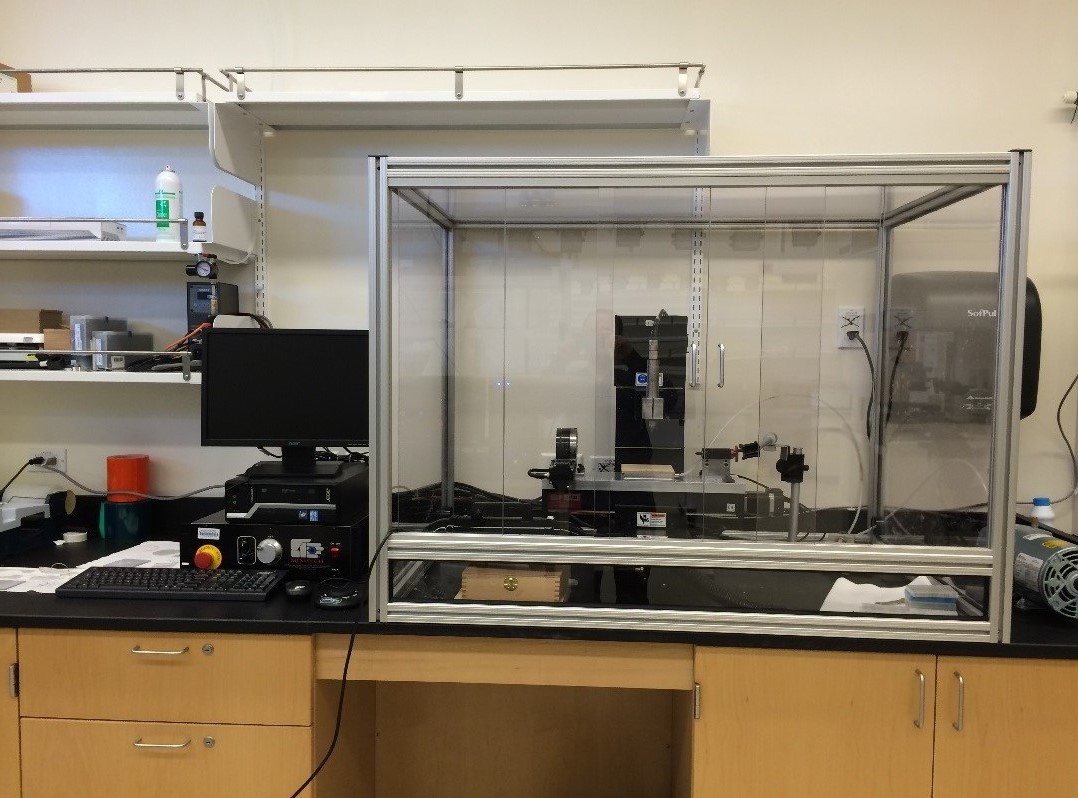 Our Minitech 4 axis CNC micro milling machine (step size resolution 0.1µm) can be used for fast prototyping of molds, devices or sample holders. It can be used with polymers or soft metals (Aluminum, Copper, etc.), to precisely drill holes or micro-machine complex shapes with micro bits. Designs can be implemented using Solidworks and Mastercam software.
Microfluidics testing workstation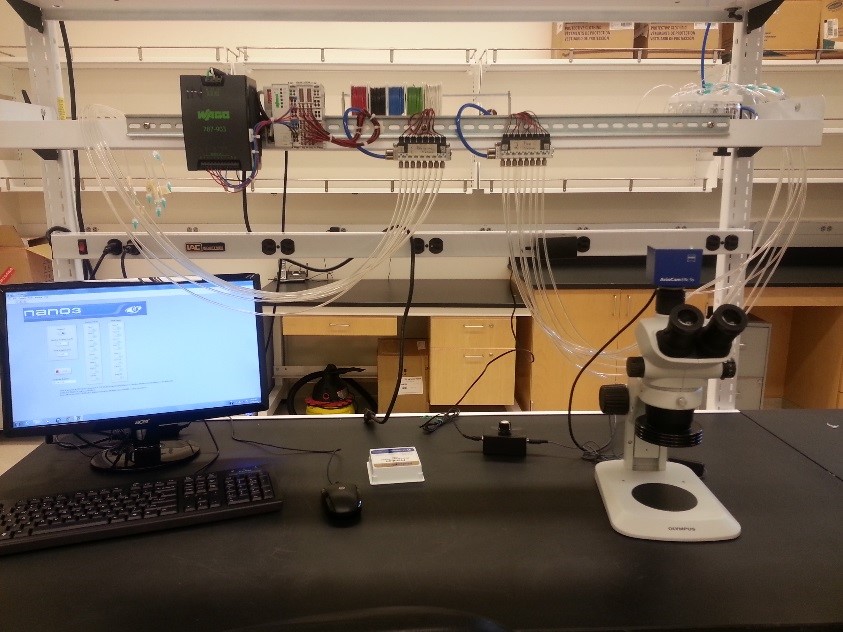 The microfluidics workstation is set up for validation and screening of microfluidic devices. Materials supply and control line N2 pressures can be independently adjusted. 16 independent flow channels are available with 8m/s response time. The pressure range is between 0 and 50psi (0 – 345kPa) for the control layer and between 0-2psi (0-13.8kPa) for the flow layer.
The system can be used in manual mode or can be programmed to perform cycles or more complex routines.
Nickel electroforming system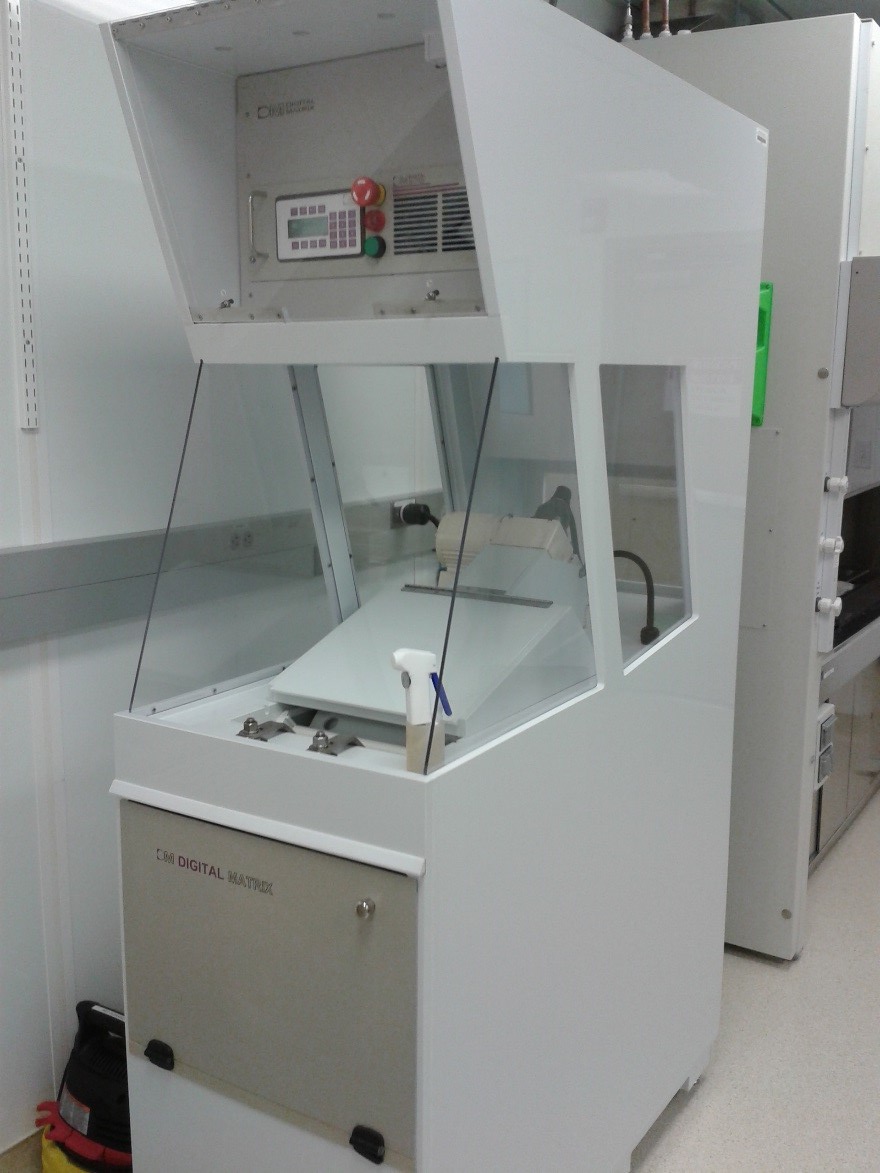 The DM SA/1b electroforming system is a state of the art Nickel electroforming machine, using a stable mixture of Nickel Sulfamate as the electrolyte solution. The system uses sulfur depolarized nickel as the anode, and a rotating 4" sample holder as cathode. Located inside of the main Nano3 cleanroom, the system can be used for fabrication of hot embossing molds.
Silicon Shadow Mask
Shadow masks are commonly used to pattern devices without any lithographic step. Realized, usually, in a thin sheet of metal the thickness of these masks mask (at least 120-150µm) allows to pattern only flat surfaces and not channels or cavities. This has been seen by the scientific community as a huge limitation for many microfluidic applications.
At Nano3 Biomedical Devices and Platforms, we developed an innovative process to realize silicon shadow masks with a minimum thickness of 50 µm.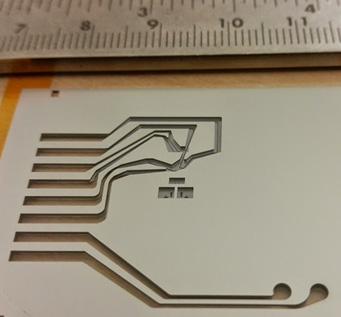 Pattern
Since we use traditional photolithography, the resolution of the shadow mask depends on the mask used for the pattern. Typically can resolve 30 µm open features within about +/-1microns.
To prevent the collapse of long bridges (in the millimeters range) and to guarantee structural integrity, the smallest space between openings should be not less than 30 µm.
Dimension
We realize our silicon based shadow masks on 4" wafers.
Price
Ask us for a quote.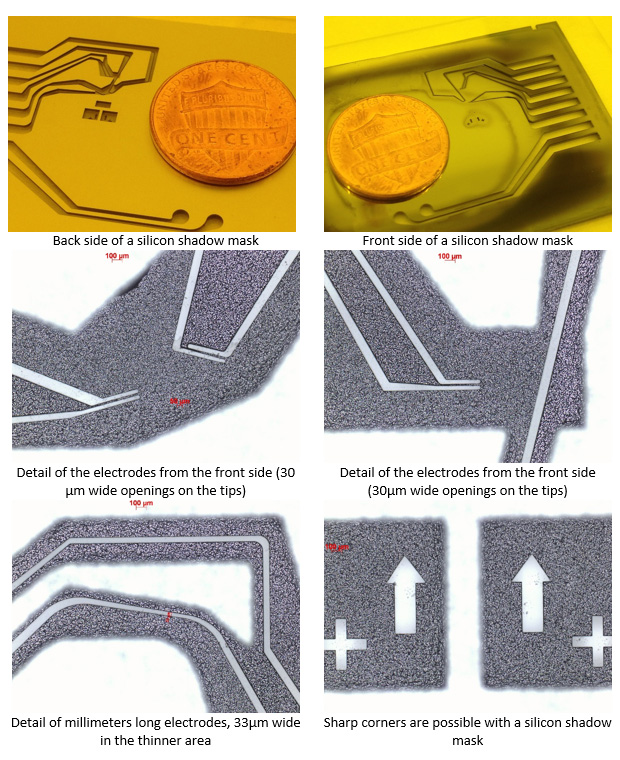 Metallization Examples:

Facility Usage / Services Rates
Facility
In our fully equipped laboratory users can design, fabricate and test their own devices, taking advantage of a state of the art cleanroom, dedicated Class 1000 PDMS clean space, hot embossing system, CNC micromill, and microfluidics multifunctional workstation.
Foundry
We also provide a foundry service at different levels. We can help the users from the design of their microfluidic devices to the realization of the final chip. We have developed processes that allow metallization of microfluidic circuits, multilayer microfluidics with active (valve/pump) components in PDMS or COC; and bonding techniques that can be transferred to different materials. CNC micromachining equipment permits fast prototyping and fabrication of molds or devices with micrometric features.
Service

UC System*

Non-UC System

Biomedical Devices and Platforms Lab Use

$15/hr

$80/hr

General Staff Assistance

$59/hr

$86/hr

Nickel mold single of multiple layer

Contact our staff for details

SU8 molds single or multiple layer

Contact our staff for details

Surfactant treatment

$84

$188

PDMS chip fabrication

Contact our staff for details

Hot embossed polymeric devices

Contact our staff for details

CNC machining

Contact our staff for details

Special designs

Contact our staff for details

PDMS Molding Training (2 days hands on)

$300

$916
*These are cost shared rates for research for UC System users only
Note that all rates are subject to change, pending annual review.
Mask and device design general guidelines
When you design your chip you must be aware that there are different requirements for different devices: if you are planning to realize a mold for soft lithography (PDMS), your mold is going to be a silicon wafer with SU8 patterns; while if you are looking to a mold for hot embossing, you may want to choose between silicon, aluminum or nickel.
When you design your mold, all devices must have a border indicating the external edges of the chip and where it should be diced. The recommended size of the mold is 4" in diameter.
The AutoCAD file containing your project must be saved in .dwg format (earlier than Autocad 2013); make sure that the internal units of your file are set up properly (Length Type: Decimal, Length Precision: 0.0000, Drag-and-drop Scale: Microns) and each single layer of your device is drawn in a separate layer. Remember to leave at least 10mm around the mold perimeter and draw your features with closed polylines, use the command overkill to remove overlapping lines; and verify that polylines and regions do not cross each other.
Alignment marks must be present in your design to allow a proper alignment of different layers of your mold. Several alignment marks must also be present in each region of the chip to align the different layers prior bonding.
Remember also to label the mask with name, date, project name and version number.
Some additional information about standards for your chip design:
Chip size: Microscope slide (75x25mm) thickness max 5mm preferably less than 2mm
For PDMS devices, features density: to guarantee a the bonding, two adjacent channels should possibly be separated by twice their width (not less than 200µm) and no more than 50% of the total area should be covered by structural elements
Electrodes: 50-200nm sputtered Au or Pt; access to the electrodes through chips holes or side connectors
Distance between devices: 2mm minimum
Through holes and Connections I/O: Minimum diameter 500µm, connected with mini-luer fittings
Minimum radius of curvature: At intersecting features r = 40µm
Min feature size and max height for lithography and electroplating: 10µm for features between 10-100µm (maximum aspect ratio is 1.5)
FAQs
Can I make my own devices?

You may independently use the PDMS clean space, hot embossing machine and microfluidics testing system after initial user training/authorization by staff.

What are the steps to realize a PDMS device?

Design your mask; realize the mold (Silicon wafer with SU8 patterns); perform an anti-adhesion treatment to your mold; pour PDMS on the mold and cure it; bond it to PDMS or a glass substrate. (to learn more, attend our PDMS Molding Training).

What are the steps to realize a COC hot embossed device?

Design your mask; make your mold; use the hot embossing press to create a replica of your device; bond it if needed.

How can I get a micro-machined prototype?

Contact our staff to discuss your device design.

What kind of mold do I need to hot emboss?

You can use silicon, epoxy resin or nickel molds. You can independently fabricate these in the main Nano3 cleanroom or use our mold fabrication services to have them made for you.

What's the minimum feature size I can hot emboss?

The feature size depends on the features of your mold. We have successfully embossed features as small as 200nm. For smaller features you should use nano-imprint lithography system (EVG620) and contact our specialist (Dr Lu xklu@ucsd.edu).

What's the maximum working temperature of the Carver hot embossing press?

The system must be operated below 200°C.

What's the maximum dimension of the mold for the hot embossing press?

The hot plates are 5 inches by 5 inches, the mold should fit that area.

Why should I use COC as hot embossed substrate?

Cyclic Olefin Copolymer (COC) is an amorphous polymer with exceptional optical properties: high transparency, low auto-fluorescence and high ultraviolet transmission. COC are generally attacked by non-polar solvents, such as toluene but shows good chemical resistance and barrier to other solvents, such as alcohols or acetone, and is very resistant to attack from acids and bases.

Can my final device have electrodes?

Yes, if the device is made of COC the best technique is to use a sputtering process (i.e. Au) and a shadow mask to realize electrodes on your device. We have developed a procedure to realize shadow masks for features in the tens of micrometer range, with spacing between electrodes also in the tens of micrometer range, and we can pattern inside microfluidic channels. If you are fabricating PDMS devices, electrodes can be easily patterned on the glass substrate where the PDMS is bonded but not inside of the channels.

Where can I test my devices?

We have set up a workstation where it is possible to test up to 16 channels at the time. The valves are controlled by programmable software and you can choose as N2 or D.I. water as carriers.

Do I need any treatment before using the molds for soft lithography?

We suggest to treat the wafers with a surfactant. We provide Fluoro Octo Trichloro Silane (FOTS) which silanizes the surface to prevent adhesion of PDMS to your mold, keeping it cleaner and facilitating the de-molding process.